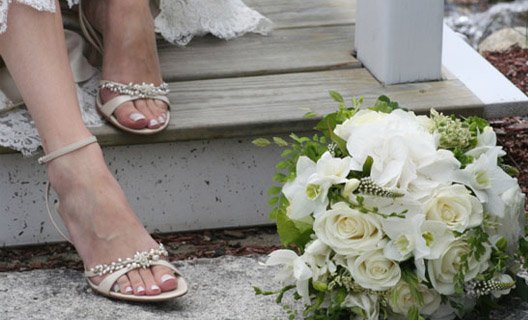 Every bride is a Queen on her wedding day and as Queen you deserve and will have the best at Queen Bee Flowers.
Our unique blend of traditional elegance and modern chic will make your wedding exceptional. Our dedication and impeccable service makes your wedding experience effortless. Queen Bee Flowers understands that each Wedding is a unique celebration and we offer personal consultations to ensure the florals are tailored to each individual couple.
Visit Queen Bee Flowers; you'll be captivated by the colors, textures and aroma- a floral palette for the senses. With over 20 years experience, designer Rosemin Jutha caters to the most exclusive venues in Vancouver, creating extraordinary affairs for discriminating clients.
From intimate gatherings to full-scale events, her wealth of knowledge, resources and innovation establishes her as a sought after floral designer in Vancouver.
---
Preparing for your Wedding Consultation:
Once you have an appointment in place with Queen Bee Flowers, organize your ideas. If you have not been cutting out photos of bouquets you like, consider doing so. It will give us a good idea of your style. Be prepared to provide information on dress colors and dress styles and have information on the number of people in your wedding.  Think about the look of your wedding. Is it simple or opulent? Are the venues bare, or decorated? What colors will be used and will season play a role?
Don't be surprised if, at first, we spend a bit of time talking to you about yourself. It is important for us to get to know you in order to have a sense of how to most effectively suit your needs and follow your vision.
— Queen Bee Flowers values sharing thoughts, feelings and ideas and creating a good relationship assures exceptional results and will help you enjoy the time spent in the planning process.
---
Here is a list of most popular wedding flowers organized by local seasonal availability for Vancouver:
Spring:
Anemones, Calla Lilies, Campanula, Cherry Blossom, Chrysanthemums, Daffodils,  Forsythia, Freesia, Gerbera, Hyacinths, Hydrangea, Iris, Lilies, Lily of the Valley, Lisianthus, Matthiola-Stocks, Nerine, Orchids, Ranunculus, Roses, Sweet Peas, Tulips, Viburnum
Summer:
Aconitum- Monk's Hood, Alchemilla- Ladies Mantel, Allium, Amaranthus, Asters, Astilbe, Calla Lilies, Carthamus, Celosia, Chrysanthemums, Corn Flower, Cotinus-Smoke Tree, Craspedia, Crocosmia, Dahlia, Delphiniums, Eremurus, Gentiana, Gerbera, Gladiolus, Hosta leaves, Hydrangea, Iris, Larkspur, Lilies, Lisianthus, Lupin, Matthiola -Stocks, Orchids, Ornamental Kale, Peonies, Phlox, Plumosa-Cristata, Roses, Stephanotis, Sunflowers, Veronica, Zinnia
Autumn: 
Aconitum- Monk's Hood, Bells of Ireland, Bittersweet Berries, Calla lilies, Callicarpa Berries, Caspium- Pepper Branches, Celosia, Chinese Lanterns, Chrysanthemums, Cotinus-Smoke Tree, Crocosmia, Dahlia, Delphinium, Echinacea Pods, Eremurus Eryngium- Globe Thistle, Freesia, Gerbera, Gladiolus, Gourds, Iris, Liles, Mini- Pumpkins, Ornamental Kale, Ornithogalum, Poppy Pods, Roses, Sedum, Solidago

Winter: 
Amaryllis, Chrysanthemums, Freesia, Gerbera, Ilex Berries, Liles, Lisianthus, Matthiola -Stocks, Narcissus-Paper Whites, Nerine, Orchids, Roses, Skimma, Tulips, Winter Greens