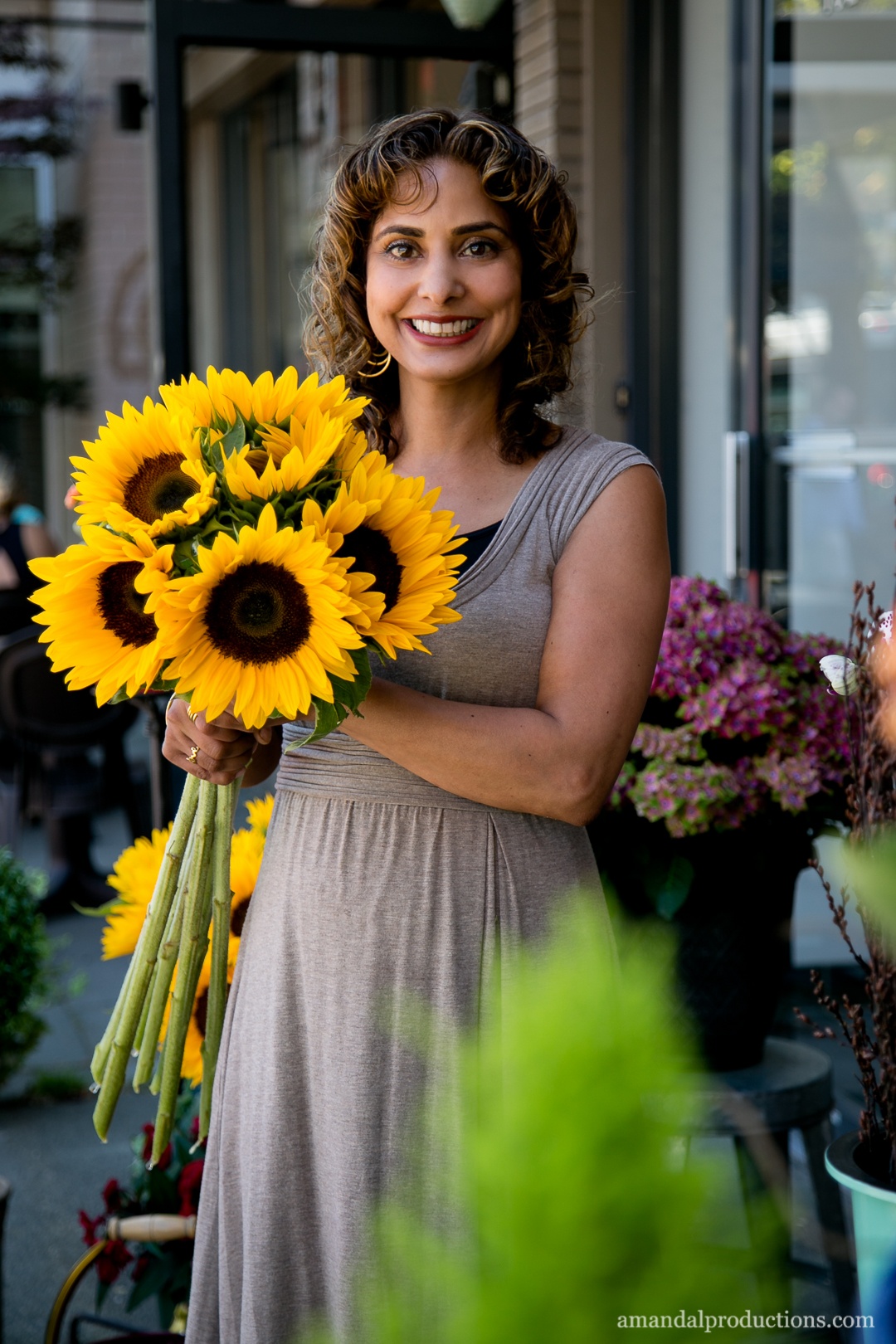 Rosemin Jutha's career began and stemmed from her love of art, creating and working with her hands and a desire to have a business which led to a decision of moving to Toronto to take Fashion Merchandising at Ryerson University. Coming back to Vancouver, Rosemin opened a flower shop in 1990. She has owned and operated three shops in Vancouver. Her first flower shop was located near the Meridian Hotel, now the Sutton Place Hotel, for two years, she relocated her shop to The Landing in trendy Gastown area for 9 years , then moved it to the heart of Vancouver at the Terminal City Club near all the action of the Convention Centre, the Fairmont Water Front Hotel, the Pan Pacific Hotel and the core corporate business world of Vancouver for another 9 years. Currently she has dedicated her energy and enthusiasm to her present shop Queen Bee Flowers.
Rosemin has a genuine passion for the floral industry. She has been seduced, as any flower enthusiast might be, by the prospect  of being able to crystallize her creative visions through floral design. Fascinated daily by the endless beauty, simplicity and infinite colors of flowers she feels the "Call of Flowers". Rosemin Jutha has built a reputation for excellence in her field. She has had the privilege over the years to service and partner with several corporate clients and high profile events, hotel contracts,  conventions,  memorable  personalized weddings and  has worked on various prestigious  and notable dignitary functions. She is an artist who understands not only color, form and design principals but also the vital integrity of flowers- firmly believing that flowers and plants have incredible healing powers and nourish the soul.
She has spent the last 26 years learning, exploring and perfecting the art of flowers. Her desire to share her enthusiasm and skills has led her to become a floral design instructor for groups and she regularly volunteers her teaching for non-profit day seminars.
Meet the Owner: Rosemin Jutha
After working with flowers for over 20 years, I still stop and smell the Roses
I named my flower shop after one of the highlights in my career-being commissioned to be the official florist for the Royal Visit- Queen Elizabeth II in Vancouver 2002
I believe in serendipity…
beautiful things excite me…
I have learned that adaptability is survival
I enjoy the freedom to experiment and create my own environment
It is very hard to have a favorite flower or a favorite color
with the flower shop- I am busy and utterly content
I love desserts, Well I love anything sweet.
traveling and visiting new places nourishes my soul
customers are always interesting people
gratitude is calming